Welcome to my Aussie Home Page!
August 30, 2000 - Guess Who's Going To School !!!!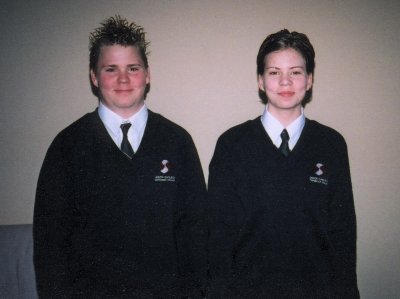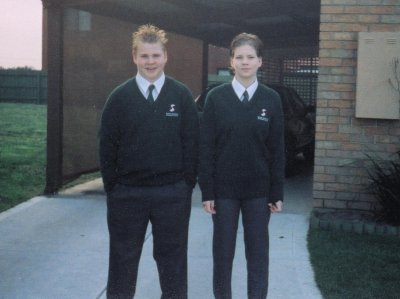 Yes, our visa's have finally been approved, so Niki and Dustin started school this month, don't they look cute in their uniforms?
August 3, 2000
How many of you realize that it is almost a year since I left Canada??? We arrived here on August 25 last year. It's so hard to believe that so many things have changed. There are certainly a few things that I miss about home. the main one being my friends and family. But of course I miss maple fudge, Canadian restaurants, and most of all my son Kyle.
It seems that I have not been keeping up with my letters on here. My only excuse is that I have been busy getting everything in order for immigration. Today I received the last and final piece of paper work....my criminal records check from Canada. Thankfully it came back clean.....ha ha ha, as though I didn't know it would. Hopefully, immigration will give us our permanency visa shortly. It will be a relief to get that settled.
I have been talking to Kyle regularly since leaving home. I sure miss him loads. He promises me he will come out this Christmas. I have threatened him and told him that if he doesn't he will receive no gifts from us, as I refuse to mail them. Besides, I'm counting on him to bring a few things from home for Christmas gifts for the kids. There are always those things that you just can't buy here. Like Old Dutch Chips, and for Nicole its the wonderbar! We are hoping to get to do some more site seeing when Kyle gets here. So look out for the pictures then!
Ken does a great job of looking after this site for me....sometimes putting pictures that I really hate on here as well. But as he is doing all the work, I can't complain too much. I think in all, he has done a remarkable job. He spends hours making it look perfect. Now that he has a scanner, he is always playing with some photo. I love to take them, and he loves to put them on here.
I'm still not smoking....its a bit easier now, and I drink about 2 cups of coffee a week. Now I know none of you will believe me on that one, but its the truth. I find it hard to believe as well. I do manage to have a cuppa or two (tea). And now that they have figured out that the pills I was on had raised my blood pressure......and it has dropped now.....I really feel a lot better for having quit smoking.
Update on the kids.......they both entered karate competitions.......Dustin entered in the sparring as well as the Kata (this they show their ability to do the punches, blocks, and kicks in a kind of dance formation....and it has to be perfect!) Nicole entered the Kata only. Dustin took 3rd in Kata, and unfortunately got eliminated in the sparring, but a great effort. Nicole won first in her division....a real surprise to her. She had to be blackmailed to enter. She just doesn't seem to realize how good she knows her stuff. We will get those pics on soon.
Well its that time again....time for me to sign off. Hope that your all enjoying the summer. Take care, we are thinking about you!!! Love you all lots and lots.
Love
Priscilla