Ballarat
Ballarat is situated about 90 minutes west of Melbourne. Rich in history, this former gold mining town was the centre of the Victorian gold rush of the mid 1800's. Some of the many attractions in the area include Sovereign Hill, The Eureka Stockade and Kryal Castle.
We looked at the town records in Ballarat and found a picture of one of Ken's ancestors. Apparently he was a famous bushranger - the two women with him look a little suspicious! Click here to see it.
Sovereign Hill
Sovereign Hill is a theme park where you are transported back to the gold rush days of the 1850's.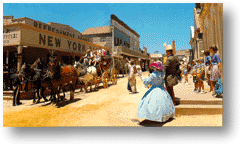 Nicole, Ken and I spent the afternoon wandering around in the days of old. We got to pan for gold in a creek and foound a couple of specks. They're probably not worth much, but we had fun doing it.
Nicole and Ken mining for gold Local transportation
If you want to learn more about Sovereign Hill, click here.
Kryal Castle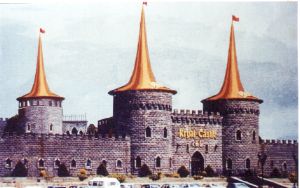 Kryal Castle is a Theme Park situated 8kms outside of Ballarat. Apparently they have Medieval re-enactments and all sorts of fun things ... we wouldn't really know because we got there after closing time, but the outside looked kind of neat. Maybe we'll go there in the coming months ...

The picture above is from their brochure, which contains some embellishments. Click here to see the picture we took.