It's been a long time since we updated this site with a new letter, so I apologise.
Work has kept me busy and Ken spends too much time fiddling with his other silly sites about Buffalo and goodness knows what else.

Niki is currently sitting her year 12 exams and is looking forward to her summer break. She's been working part time at a Pizza Parlour for over a year now.

Dustin is working at a gas station and dreaming of becoming a millionaire.

Guess what, we have a puppy! Her name is Mikayla, she's a West Highland White Terrier, almost 6 months old and she's cute as a button and she can type!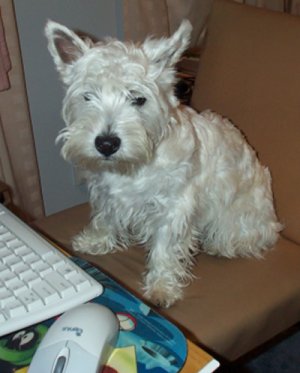 For my links page click here

Email me here.
Stay tuned to this site and I'll write a new letter to you all soon.

Priscilla
Here are some more puppy photos: