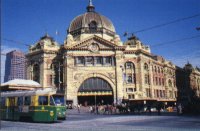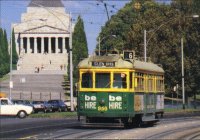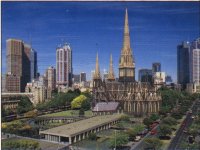 Melbourne is the capital of Victoria and with a population of over 3 million is Australia's second largest city. Situated on the Yarra River, the city centre is about 30 minutes from our home.

Melbourne was founded in the 1830's, and began to thrive during the 1850's after the discovery of gold the north-central region of the state.

Melbourne is known for it's trams, The Rialto Tower, The Old Melbourne Goal, Crown Casino, Southgate and Bourke Street Mall. Outside of Melbourne there are many tourist attractions, such as The Great Ocean Road, Phillip Island, Sovereign Hill and Puffing Billy in the Dandenongs (see our pages for pictures of our visits to these places).

Melbourne is also known for its sports-mad residents. Australian Rules Football, Cricket, Golf, The Australian Open Tennis Tournament and The Australian Formula One Grand Prix all draw huge crowds, in the city that hosted the 1956 Olympic Games.

Called "The Garden City", the Melbourne CBD is surrounded by the Gardens. There is The Treasury Gardens, The Fitzroy Gardens, The Flagstaff Gardens, The Exhibition Gardens and The Botannical Gardens to name a few. There is a colony of Fruit Bats living in the Botannical Gardens that has grown so large that they are threatening to destroy ther own habitat through over eating and there is a controversy raging over plans to cull the numbers to a lower level.
Pictured to the left are:
1. Flinders Street Station
2. The Shrine of Rememberance
3. The Melbourne Cricket Ground
4. Melbourne CBD from the Rialto Tower
5. St. Peter's Church