The Great Ocean Road
The Great Ocean Road runs from Torquay to Warrnambool along Victoria's South West Coast. It winds it's way through some of the states most popular tourist resorts such as Anglesea, Lorne and Apollo Bay then on to some of the most spectacular ocean scenery in the world, such as The 12 Apostles, The Bay of Islands, The London Bridge and Loch Ard Gorge, just to name a few.

Here are some of our pics from our trip along The Great Ocean Road:
London Bridge
One of the Victorian West Coast's best known landmarks changed it's face forever when, late on January 15 1990, the main arch collapsed into the sea. Two people were stranded on the now isolated southern tip immediately after the collapse and were later rescued by helicopter.

The 12 Apostles
The 12 Apostles were formed by the erosion of the cliff face leaving huge chunks of rock stranded out from the shore. We arrived here just before sunset on a calm and perfectly clear afternoon. The color of the sky as the sun went down was something to behold.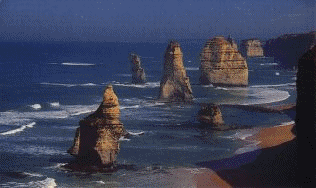 Loch Ard Gorge
Named after The Loch Ard, a ship that tragically ran aground there over 150 years ago, This gorge contains a number of some caves, which the 2 survivors of the wreck sheltered in after they made it to shore.
Warrnambool
This is where we stayed overnight. Warrnambool is known as a nursery for the Southern Right Whales, as they come to the waters off Warrnambool to give birth to their young.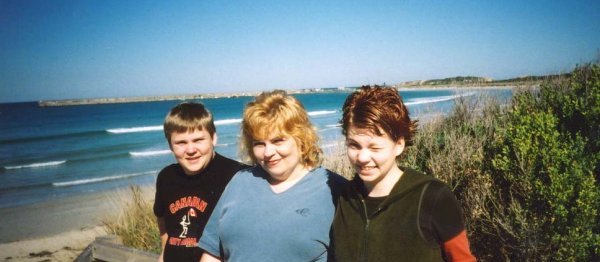 Just outside of Warrnambool we found a quiet little spot know as Hopkin's Falls. It's not quite Niagara, but apparently it is quite a site after heavy rains. The long drought in the area has reduced it to a trickle.