Welcome to my Aussie Home Page!
May 23rd, 2001 - News Flash
Guess what? I'm engaged!!!

Ken popped the question a couple of weeks ago and we're making it official at our engagement party on Friday May 25th. Here's a sneak preview of the ring: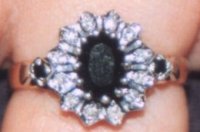 April 1st, 2001
Hello Everyone!
I know it has been a while, but I have no excuses except the same one you all use, I have been busy. We've moved some of the older pictures off the main menu, but if you haven't seen them select Links from the menu at the left.
As you can see, Kyle made it out at Christmas, and it was lovely to see him again. Unfortunately, his time here was all too short, and we had to say good-bye. Click here to see some pictures of his trip. We took him to the Aussie outback, along the Murray River, and of course to see some of the wildlife. He got to experience his first Aussie sunburn, needless to say, he wouldn't listen to his mom when she told him to put on sun screen! Of course, burning once was enough and from that point on wore sunscreen.
It has been a hectic time for us since his return to Canada. Nicole started the school year at the end of January. Can you believe that she is in Grade 10! My little baby turns 15 this week on April 4th. Don't forget to send her an email and wish her the best at nikitiki86@hotmail.com . Being the typical teenager, she wants clothes and money for her birthday. She has also gotten herself a part time job at our local Safeway, so is managing to keep herself pretty busy.
Dustin chose not to return to school this year, and we have decided to respect his wishes on this one. Hopefully he will choose to return later on. He did take a Security Guard course, which he passed. He figures that he will be able to work at some of the many concerts they have here in Melbourne. right now he is working full time in a toy factory and really likes having money in his pocket. Not sure how long that money will stay there, as every week he finds something new that he wants.
Ken has just returned from Thailand where he spent a week at a cliff side resort in recognition of his award for excellence at work. We are all really proud of him of course. Anyone who can understand all the ins and outs of these computers is pretty remarkable. Though it seems to have been keeping him too busy to keep this web site updated! Well that, and me always asking him to help in the yard! He did a report for his boss, so I got him to load it on the web so that you could see the pictures. Click here to see it. Ken and I have also taken up golf.....at least once a week. I signed up for lessons and then share the information with him. We are slowly improving, having taken at least 15 points off our scores from when we started about 2 months ago. On top of all that, we take one of our friend's little guys a couple of times a month. He is about 20 months old, and a real sweetie. Well I wasn't thinking he was too sweet when he kept me awake the other night, but most of the time! He has his own website at http://tommylittle.tripod.com if you want to visit it.
I'm off to work tomorrow morning! I landed a job as Secretary/Receptionist for an investment company who is looking to make Melbourne it's head office. I'm looking forward to the challenge, as well as the time out of the house. I did for warn the guy that I had never been a secretary per say, but he seemed willing to take a chance on me. I'm definitely not looking forward to getting up at 6:30 a.m. to catch the train into the city! So, on that note, it's time for me to get off here, and get ready for bed. Hope your all doing well, miss you all.
Priscilla
---